How umbrella manufacturer makes umbrellas with logo printed?
How umbrella manufacturer makes umbrellas with logo printed?
As one of major umbrella manufacturers and umbrella wholesale suppliers in China, B&R Leisure Products Co.,ltd specialized in all kinds of umbrelal and parasol items. We can do screen print, digital print, rolling print, heat transfer print, etc.
Below is process of umbrella screen printed which offered by B&R Leisure.

1st step: Raw material booking:
as per umbrella specification requested, umbrella manufacturer go ahead to book raw materials, such like umbrella frames, dyed fabric, handles, tips, tops and other parts. To have all material stand by usually takes about 10~20 working days.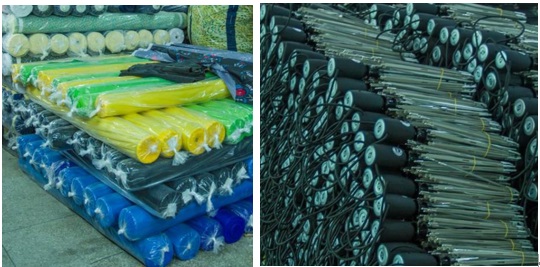 2nd step: fabric cutting:
dyed roller fabric be cut to 2~3 divisions which makes width narrowed. Then let both edge of each division be sewed to sure the line won't fall off. After this, fabric cutter will use blade to cut each narrowed fabric to lots of triangle panels with same size.
3rd step: screen print:
Triangle panels will be sent to print factory to have logo printed.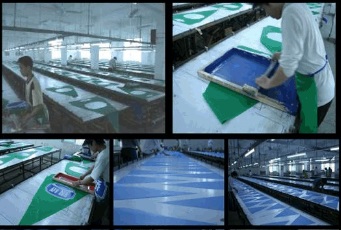 4th: sewing
Sewing all triangle panels to whole umbrella canopy, canopy be added with closure strape. Canopy top be fixed to sure sewed panels won't broken. End of 8 panels will be sewed with tips.
5th: assembling
Sew whole canopy to umbrella frames. Then fix with handles and tips.
6th: packing
Finished umbrellas will be packed to bag after quality checking and then into shipping ctn boxes.